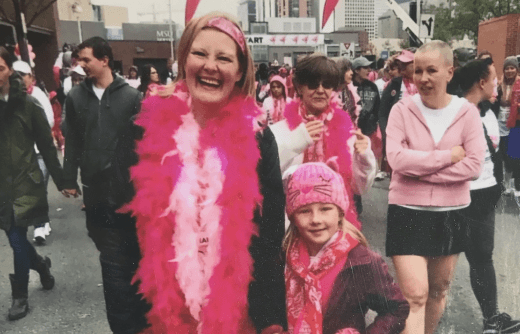 Dr. Caldwell and her daughter, Kiley, at the Komen Walk
Think Pink: Walk to find a cure at the Susan G. Komen "More Than Pink" Walk
By: Rachel Bloch
October 13th, 2022
October is National Breast Cancer Awareness Month, and here at MoVET this cause is very close to our hearts. We would love if you'd consider joining us for the 2022 Colorado Komen More Than Pink Walk!
The Susan G. Komen More Than Pink Walk is a signature fundraising event dedicated to raising money while celebrating breast cancer survivors, honoring those who have been lost, and supporting their loved ones. Fundraising efforts help fund research for cures, increase access to care, and provide additional support for the community. Join us as we walk for those who can't, and for those we have lost.
The Denver More Than Pink Walk takes place on Sunday, October 23rd, 2022 at Civic Center Park. The walk site opens at 7am and the opening ceremony will begin at 9am. For more information on the walk and how to register, please visit the Susan G. Komen website.
In the United States, one in eight women will be diagnosed with breast cancer in their lifetime. Breast cancer touches the lives of so many people in your community, and your support could mean the world to them. Bring your friends, family, and dogs along for the 2.5 mile walk to cure breast cancer. Alternatively, you could support the Susan G. Komen foundation with a donation. If you would like to make a donation to support the cause, please visit please visit their donation form.